The Fender Jag-Stang is an electric guitar designed by Kurt Cobain, of the band Nirvana, intended as a hybrid of two Fender electric guitars: the Jaguar and the Mustang.
History Behind "Jagstang"
Edit
Cobain suggested his idea for an instrument to Fender, resulting in two left-handed prototypes built by former Custom Shop Master Builder Larry L. Brooks, only one of which was played by Cobain himself.
He (Kurt) was really easy to work with. I had a chance to sit and talk with him, then we built a prototype. He played it a while and then wrote some suggestions on the guitar and sent it back to us. The second time around, we got it right".
In an interview from January 4, 1994, Cobain talked about designing the Jag-Stang, since it had not yet been produced. He stated to Nardwuar the Human Serviette that he designed it by taking a Polaroid of the Mustang and Jaguar, cutting them in half and combining them.
It was shipped back to Fender for repairs before Cobain brought it with him on the European leg of Nirvana's In Utero tour in 1994, where the guitar was seldom played live.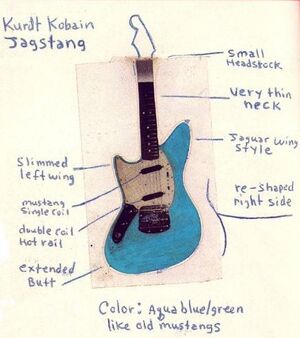 Cobain sketched a basic design that was sent to Fender, which was later published as part of his Journals in 2002.
Cobain's prototype Jag-Stang had a Fender Texas Special pickup at the neck and a DiMarzio H-3 at the bridge. (The H-3 humbucker is not available as an individual product but the closest sounding one is the DiMarzio DP158 Evolution Neck Pickup.) The production Jag-Stang includes a "vintage style" single coil pickup and one "special design" humbucker, each with its own toggle switch which a player can use to switch from "on", "off", or "out-of-phase" settings. It employs the Mustang's "Dynamic Vibrato" bridge and like both of its predecessors, it has a 24" short scale neck (an exact replica of Cobain's favorite neck, from a Fender Mustang).
Originally produced in the fall of 1995, after Kurt Cobain's death, Fender Japan reissued the Jag-Stang two years after its 2001 cancellation due to popular demand. Fender once again discontinued importing the Jag-Stang from Japan as of May 2006.
The Jag-Stang was produced in two colors: Sonic Blue and Fiesta Red.