Welcome to a knowledge base about Fender!
Are you looking for information about Fender's gear? Do you want to know interesting facts about Leo and his desings? You're in the right place! Feel free to contribute, the more the better! If you own a Fender's guitar, amp or even a pick - visit Category:Show_up! and tell your Fender story!
Dive into the Fender's gear!
Learn more
Featured article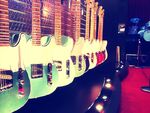 The Fender Telecaster, colloquially known as the Tele /ˈtɛli/, is the world's first commercial solid-body, single-cutaway electric guitar made by Fender, typically dual pickup in configuration... Read more
Featured media