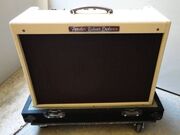 We all know the current Fender Blues Deluxe amp in production. It is obviously a "reissue" version, i.e. a version which simulate the original model of the Fender Blues Deluxe amp. The current amp is built in Mexico (but there are versions - up to 1999 - made ​​in USA as well) and is a good amp that is capable of delivering a good full-bodied and distinctive blues sound .
The amplifier we are talking about here, however, is the original Blues Deluxe (no "reissue" version) made ​​by Fender in a "limited" version over only three months (May, June and July) in 1995.
This is a machine totally and completely different from the tube amps that we are used to now. At circuitry level it is much more linear then the version of our days and the section of the tube preamp is totally "tubed", except the rectifier, which is solid state. The cabinet is slightly heavier and the speaker - a 12" Eminence special designed for Fender, apparently the same but with more mellow tone - is capable of giving the best imaginable blues sound, either you are using the clean (however never "clean") channel or with the "dirty" section. Reverb has an unparalleled depth. When a Stratocaster, a Les Paul or 335 are connected, the result is truly amazing. Both channels do their duty, releasing huge volume impact (despite its 40 watts) and delivering a really legendary tone!
The amplifier can be recognized by two specific factors. The first is the logo: only this "USA limited" version sports the plate "Fender Blues Deluxe" (the others only have "Fender"). The second is the ampli stick code, which must start with "FE" or "FF" or "FG". The meaning is simple: the first "F" indicates the year (1995), the second letter ("E", "F" or "G") the month (May, June or July). Only 1,000 of these gems were built..
The value, depending on the condition, is between $1,100 and $1,300.
If you come across one of these authentic pieces of blues history, do not miss it and buy one ... it is simply wonderful!